Heritage, visit, Castle, Fort dans le Lot-et-Garonne
Castles and Monuments

Castles are historic heights-places, they allow to dive back into the universe of the Lords who lived there. Some of these monuments, as fortresses, symbol of power and power, are often marked by the wars of the Middle Ages. Others, as the castles of sailing are much more stylized and testify of the refinement of the Renaissance.
2 dans le Lot-et-Garonne.
Register your touristic spot dans le Lot-et-Garonne it's free (in French)
OFFICE DE TOURISME
RUE DU 14 Juillet
47140 Penne-d'Agenais (Lot-et-Garonne)
Place forte médiévale.
A visiter : les trois portes, la place Paul Froment, le sanctuaire de Peyragude,
les échoppes des artisans d'art ...
Randonnée sur le plateau Saint-Michel
Visites ...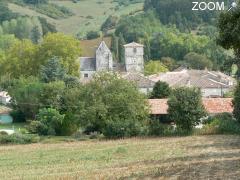 Association de mise en valeur du Patrimoine de l'Abbaye de St Maurin
Rue du Lavoir
47270 Saint-Maurin (Lot-et-Garonne)
"village de caractère":Vestiges de l'Abbaye, pittoresque place centrale avec ses maisons à colombages, halle du XVIIème , vieux puits,tour à machicoulis du chateau abbatial, rues étroites.Musée ...

Register your touristic spot dans le Lot-et-Garonne it's free (in French)