Heritage, visit, Wildlife / Leisure center in Aquitaine
Leisure parks and Wildlife parks

Amateur of big shivers or sweeter sensations, you will inevitably find a park of leisure at your convenience. Scenic railways of amusement parks in the playful or instructive walks of parks with subject, it is the ideal activitie in family or between friends.

The animal world is in your range with the wildlife parks. Mysteries of the seaworld, with aquariums, to the wild animals of other lands in zoos by way of animal husbandry of lamas, of fallow-deer, of harts or of ostriches, discover all fauna while sharing an instant in family.


Register your touristic spot in Aquitaine it's free (in French)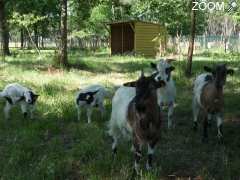 Low season of 7€ to 8.5€

Average season of 7€ to 8.5€

High season of 7€ to 8.5€

School holidays of 7€ to 8.5€
MR BARREYRE SEBASTIEN
15 RUE DE LA BRUYERE
33990 Naujac-sur-Mer (Gironde)
Phone : 05 56 73 00 73
- Fax : 05 56 73 04 04
Ferme de Découverte
Animalia Parc
Activités d'accueil : Ferme de découverte : au cours
d'une promenade en forêt médocaine, découvrez 250 animaux de la ferme : poules, pigeons, paons, ...

Register your touristic spot in Aquitaine it's free (in French)