Accommodation, Self catering en Gironde
Add to my travel notebook
Register your touristic spot en Gironde it's free (in French)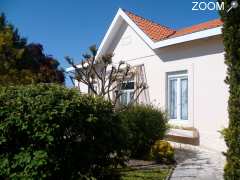 TVORG-10984
Update informations
Average season of 482€ to 562€

High season of 561€ to 589€

Weekend 220 €

Weekend 308 €





Disponibilités
Domaine de Lauréac
14 rue Saint Hubert
33600 Pessac (Gironde)
Phone : 06 29 05 32 89
- Fax : 09 55 46 00 40
Aquitaine Cottage Residences 3 stars classified.
Located in Pessac, this detached holiday home set in a type 3 fully renovated and equipped, near the main house (see photo), will offer excellent comfort.
Boasting a floor space of 75 sq.m. with a maximum capacity of 7 persons it has 2 bedrooms with double beds, a 120 cm width bed and an individual bed. Two cots are also available.
The living room equipped with a television and an internet connection, includes a dining area and fully equipped kitchen. The latter communicates with a pantry-laundry room with washing machine, dryer, refrigerator and freezer. Outside, a terrace with barbecue allows you to dine outdoors.
The sanitary premises will provide you a bathroom with double sinks, shower and 2 toilets.
Just minutes from Bordeaux (5.9 km) and its historic neighborhoods the location of the house will easily allow you to visit the capital of Gironde. Located in a quiet residential area of Pessac, it will seduce you with the full range of amenities: transportation, restaurants, nightclubs, shops ... You're also 30 minutes from ocean beaches.
Its location in the heart of the Graves vineyard near the most famous wine estates of Bordeaux will inspire you to immerse yourself the traditional wine-growing culture of the region.
Our lodging will also be necessary for your stay in Bordeaux whether tourism or related to a seminar, a workshop, convention or trade fair as the Fair of Bordeaux, Conforexpo, Vinexpo etc. ...The proximity of universities and colleges of Gradignan, Talence and surrounding hospitals such as Xavier Arnozan, Haut Leveque, Pellegrin, St. Martin or Mutualiste, will provide you an extremely convenient accommodation.Finally, access to public transportation (bus Bordeaux live on site, train 5 min, 10 min tram) will facilitate your travels in Bordeaux and suburbs and to Arcachon this without using your car.If you arrive by plane, the international airport is only 10 minutes.

Register your touristic spot en Gironde it's free (in French)