Accommodation, Bed and Breakfast dans le Lot-et-Garonne
Add to my travel notebook
Register your touristic spot dans le Lot-et-Garonne it's free (in French)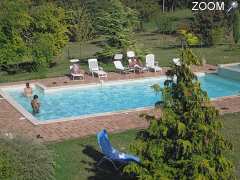 TVORG-707853
Update informations
Disponibilités
Mme SEFFALS
Binou Montagnac sur Lède 47150 Monflanquin
47150 Monflanquin (Lot-et-Garonne)

http://www.vacances-lebinou.com
Come and discover The Binou guesthouse between Agen and Bergerac. You will appreciate its character, its comfort, its calm, the welcome and also the convivial "table d'hotes" meals.
You will be received by Maonia with a warm welcome and will be invited to spend a relaxing and discoverable stay in Lot et Garonne, country of chateaux, historic villages, gastronomy and wine.
La maison d'hotes le Binou puts at your disposal four bedrooms : 2 double rooms roséa, anis and 2 familial rooms magnolia for 3 persons, genêt for 4 persons.
The chambres-d'hôtes have their own entrance and reserved parking, WIFI internet connection is available
You can enjoy various activities on site : 12x6 swimming pool with fountain 3x1, ping-pong, French boules, badminton, walking.











Register your touristic spot dans le Lot-et-Garonne it's free (in French)